Author Interview Wendy Van Camp
The Planets: A Scifaiku Poetry Collection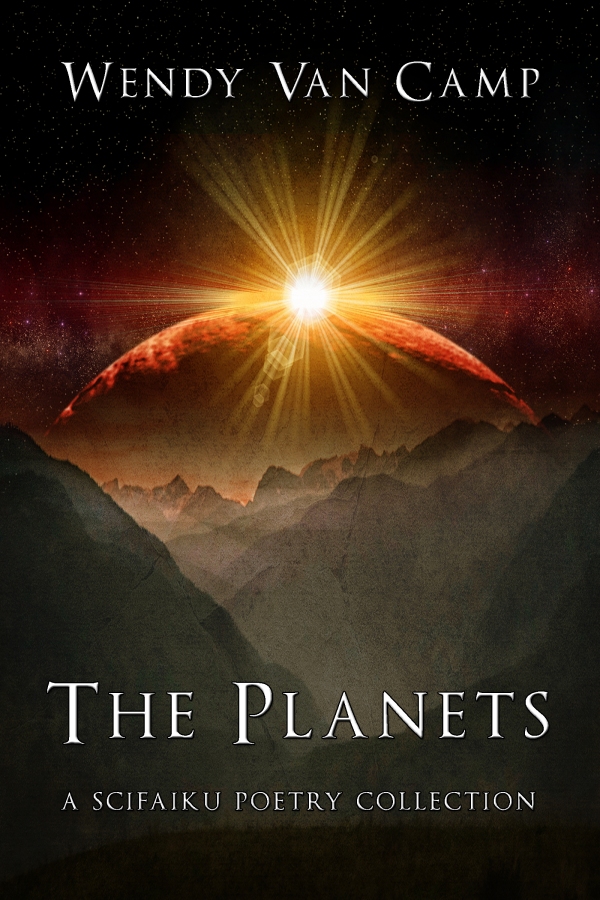 by Wendy Van Camp
Synopsis
: The planets have fascinated humanity since the dawn of time. We've looked up into the heavens and wondered what these wandering stars are and why they are different from their more stationary cousins. In modern times, humans have sent probes to all the planets in our solar system, sending back tantalizing views from faraway worlds. The planets are woven into our culture and history. They are signposts of our journey ahead.
This collection of 108 science fiction haiku poems (scifaiku) will take you on a journey of exploration showcasing tiny moments of wonder with each of the planets of our solar system.
Genre:
Science Fiction, Poetry
Publish date
: October 16, 2019
Publisher
: Independently Published
Author Interview
What's the basic plot of your book?
There is no real plot to the book. "The Planets" is a collection of science fiction themed haiku poems. The inspiration is the planets of the solar system. I have written poems for the nine planets and I have also illustrated the chapter heads with my own line art. The idea is for the reader to go on a journey into space.
Which is your favourite character and why?
My favorite planet was Mars. Not only has this world held humanity's imagination for thousands of years, but it may be the first world we colonize as a species. I found the research into this world to be fascinating.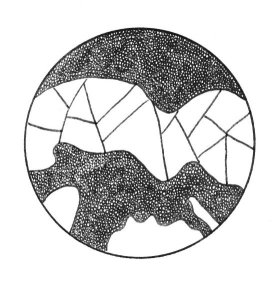 Have you used any real events or places as inspiration for your writing?
All of the poetry in "The Planets" is based on the real world information that NASA probes have brought back about these worlds, or about future possibilities of human interaction with them.
Describe your road to publishing your book:
My poetry collection is independently published. In some ways this hampers me as a poet because many poetry contests require the book to be traditionally published. Not all are this way, however. Poetry has its own circuit of support that is different than publishing a prose book. I made sure that when I created my collection, I had enough poems to qualify as a true collection and not just a chapbook. In this way, I hope to qualify for more contests.
How did you go about developing your cover artwork?
Originally, I created a cover of my own, but after showing it to several authors in my local writers group, I realized that it had a lukewarm reception. I decided to search for a pre-made book cover and found the image that I use for this book. I wanted something that had planets on the cover, but was not a stark photograph. This one had an organic feel and captured the sense of wonder I wanted for my poetry collection. I guided the artist to create the text and the ebook cover was finished. To create the paperback version, I used the KDP book cover creator to make the back cover and put the two images together for the needed wrap around.
How do you handle marketing on social media?
I handle the marketing of my books myself. I have developed a robust author platform that supports my novels, short stories and poetry. I offer free content to readers and writers of science fiction or fantasy on my blog, No Wasted Ink. My short stories and poetry publish regularly in online magazines, all of which link back to my writing blog. I also have a newsletter. I am active on Twitter, Instagram, and Medium.
What do you write about in your blog?
No Wasted Ink is a blog for the readers and writers of science fiction, fantasy, and horror. It features interviews of up and coming authors, guest posts about the craft of writing, my own articles, flash fiction, and poetry.
I write about the convention and conferences I attend. I give advice about writing craft and software/hardware for authors, or book marketing advice. Much of what I teach in my author platform seminars can be found by reading my blog if you are willing to surf around a bit. I try and not get too personal on No Wasted Ink. It is a blog for the readers, not my personal sounding board.
What are your writing plans for this year?
I am planning to implement new writing techniques that I've learned at a recent writing conference to start finishing more of my stories and get them out to the readers. I am participating in two writing challenges. One is a flash fiction challenge, where I will write five flash stories with my writing group. The other challenge is to write a novella, which will be my Camp Nanowrimo project.
I'm using a new quarterly planning system for my projects. Each quarter I assign one large project in addition to my usual blog writing and poetry. The first quarter is to continue revision on an Austen Regency novel in addition to the flash fiction challenge. I'll likely write more poetry too.
Who would you choose to read your audiobook?
Being a Farscape fan, I would love to have Claudia Black read the poems of my collection. I've heard a few of the audiobooks she has narrated and find she does an excellent job.
What do you enjoy doing when you're not writing?
I am a budding urban sketch artist. I enjoy sketching with pen and ink, but I'm hoping to add a watercolor element to my work this year. Getting outside and creating art is relaxing and it seems to flex different creative muscles than my prose and poetry writing use. I am still a newbie at painting and too self-conscience to show my work off. So only my line art makes it to the art shows.
Where do you like to travel to?
I'd like to see Iceland. It is a land of natural beauty where the biggest national pastime is writing and reading books. How could you go wrong to visit a place like that?
What is Scifaiku Poetry?
Scifaiku contains certain theme elements, much like haiku does. In traditional haiku, the poems are about nature. In scifaiku, the poems are about science fiction. Each poem needs to evoke a science fiction premise along with its own observation of that idea. For instance, you might include a technological word like space, laser, nebula, biofeedback, or teleport. Technical words often can be long and have many syllables, but this is allowed in scifaiku.
In traditional haiku, a word is included to indicate the season or time this poem is taking place in. You can also include this element in the scifaiku poem. It is not a requirement, but including it makes poems stronger.
Haiku and scifaiku both involve creating a sense of a single moment in time and space. You need to discover that tiny moment and the feelings that it invokes within yourself. Scifaiku is about creating a tiny bubble in the universe that makes one consider the human condition.
If applicable - what's your experience of the Fantasy Sci-Fi Readers' Lounge?
I've known some of the admins of Fantasy Sci-Fi Reader's Lounge for many years, but due not having a science fiction book completed, I haven't done many interviews with them. I've mainly offered marketing support for other authors. I'm pleased that I now can join in the fun with my new science fiction poetry collection.
Quick quiz:
Favourite thing to cook: I love to make Japanese style Pork Ramen.
Silliest saying: Creative Minds are Seldom Tidy.
With writing, are you a plotter or (seat-of-your) pantser? I am a loose plotter.
Poet Bio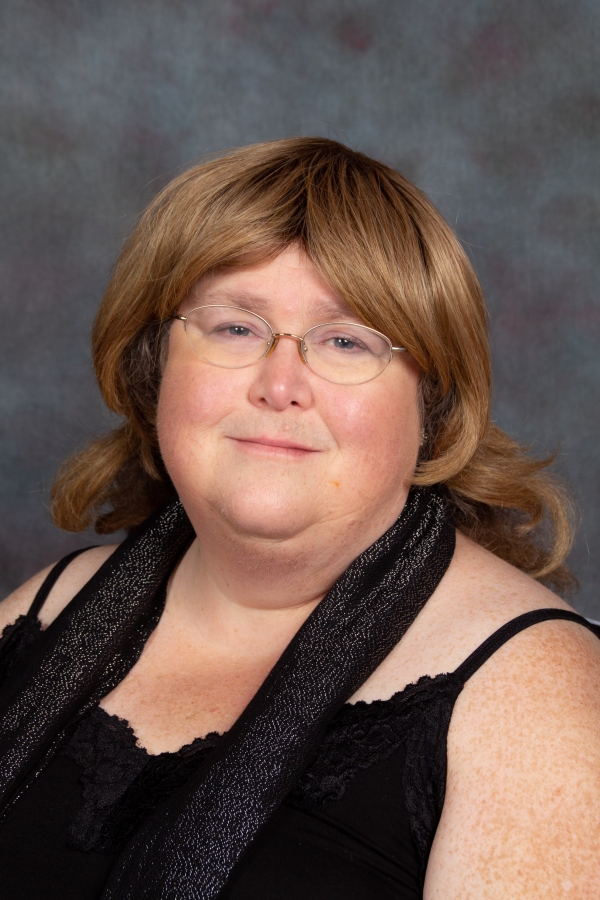 Wendy Van Camp has always had an interest in poetry but did not consider herself to be a poet. One day, she happened on a scifaiku writing workshop at a local science fiction convention. It would be a moment that would change her life. She wrote her first science fiction themed haiku (scifaiku) and the first poem she had written since high school in that workshop. The poem sold immediately. She wrote more. Over the years her free verse and scifaiku poems published in magazines such as "Quantum Visions", "Scifaikuest", "Lit Up", and "Far Horizons". She would go on to illustrate her poetry and sell them the prints at science fiction art shows. As she began to attend open-mic readings for her poems and teach how to write scifaiku in workshops of her own, Wendy has come to realize that she is indeed now a poet...in spite of herself.






Links:
Website/Blog: http://nowastedink.com
Twitter: http://twitter.com/wvancamp
Goodreads: https://www.goodreads.com/indigoskye
Facebook: http://www.facebook.com/nowastedink
Instagram: http://www.instagram.com/nowastedink
Medium: https://medium.com/@wvancamp
BookBub: https://bookbub.com/profile/wendy-van-camp
Amazon Author Page: https://www.amazon.com/author/wendyvancamp
Newsletter: http://vancamp/newsletter