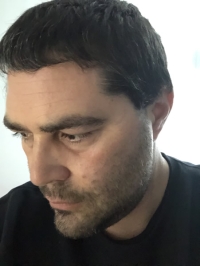 Jigglyspot and the Zero Intellect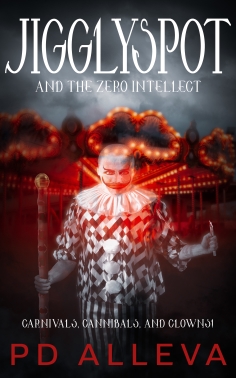 An Addictive Horror Novel
By PD Alleva
Published by Chamber Door Publishing, LLC
"This is Clive Barker on hallucinogens. Jiggly makes Pennywise seem like a reasonable choice to babysit your children." ~ Musings of the Monster Librarian

Carnivals, Cannibals, and Clowns. Oh My!

Wanna go for a ride?

Meet Jigglyspot, a five-foot tall half human half warlock carnival clown who spends his free time moonlighting as a drug dealing pimp and lackey for demonic entities who prey on the weak and vulnerable, casting their dark shadow across humanity through manipulation, and fear.

Jigglyspot was selected to serve as the event coordinator for 2019's Summer Solstice Celebration at the prestigious Cannibal Café. A celebration that brings together both demon and human alike. But with less than two weeks before the celebration, Jigglyspot's got so much to do and little time to do it. And the feds are hot on his tail. Between securing new recruits for demonic possession, choosing fresh bodies to slice and dice for dinner, and the fact that his girlfriend, Kera, is eating up most of his time, Jiggly's at his wit's end.

Hopefully, those demons appreciate all his sacrifices. Hopefully, but unlikely. Those demons can be hell to deal with. Jigglyspot knows; he's been dealing with them for decades.

Will he rise above, or will tragedy and mayhem lead to dire discoveries poisoned with manipulation and betrayal that will ultimately destroy all Jigglyspot holds dear?
Discover Jigglyspot and his cast of clowns, killers, demons, and wretched fiends, in a novel like you've never experienced. Horror, mayhem, thrills, chills, fantasy, and spoils are waiting for your reading eyes with an escape into the underworld of mind control and human slavery.

Warning: This book contains scenes with profound psychological suffering, and graphically violent acts, behaviors, thoughts, deeds, and ridicule. No one has been spared, and no label is safe. Although we are proud to report, no animals were harmed during the writing of this novel, so that's a good thing. Everyone else is fair game. After all, if you were a demon, what would you think of humanity?

Fans of Grady Hendrix, Catriona Ward, Clive Barker, and Stephen King will be captivated by this edge of your seat, eye-popping, wtf horror novel that is certain to be your next addictive read. As they say, you don't just read Jigglyspot… You DEVOUR Jigglyspot!
Praise for Jigglyspot:
"A fast-paced hell ride of depravity…" ~ Kirkus Reviews
"This is Clive Barker on hallucinogens. Jiggly makes Pennywise seem like a reasonable choice to babysit your children." ~ Musings of the Monster Librarian
"Transcends the boundaries of the horror genre, commanding the reader's attention from beginning to end." ~ Literary Titan(Starred Review: Winner of the Literary Titan Gold Book Award)
"A no-holds-barred exploration of the darker side of humanity and beyond." ~ Readers Favorite(Starred Review)
"A gore filled, clown centered horror novel featuring demons, cannibals and cosmic chaos." ~ IndieReader
"This is a book in which the horror reaches beyond the story and creates an uneasy feeling that will stay with the readers for a long time." ~ Rosie Amber's Book Reviews
"This book and its contents are not for the feint of heart. It is a disturbing and horrific novel that is so well done it's hard to put down." ~ Bookshelf Adventures
"This book is like a bloody steamroller that, once started, just wants to crush you with its horrific non stop narrative and absolutely jaw dropping scenarios that include forms of torture and sacrifice that will make you want to scrub your soul!" ~ Horror Reads
"First and foremost, this is brilliant if you love extreme horror with a touch of science fiction for good measure. It's visceral, dark, gritty and grabs you by the throat and does not let go even at the end." ~ What You Tolkien About
"The build to the end had my heart pounding and I couldn't turn the pages fast enough to see how everything would be resolved. If you're into horror, thrillers, or books with gore, try Jigglyspot and the Zero Intellect, It's an incredible book to pick up and get lost in." ~ Artisan Book Reviews(Winner of the Artisan Book Reviews Book Excellence Award)
"PD Alleva has done it again! His take on horror is a good one, and as it was with Golem - Jigglyspot was one of those books that made me quite uncomfortable and kept me on the edge of my seat." ~ The Bashful Bibliophile
"The descriptions in this novel are very realistic. The writing, beautiful in its savagery. I could not put this book down and could not close my eyes to the visions within." ~ Bookshelf Adventures
570 pages | 978-1-7351686-3-0 | October 31, 2023