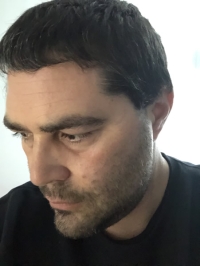 PD Alleva
Born in Brooklyn, New York, raised in Westchester County, New York, living in South Florida since 1992. A child of the 90's PD has coined a new genre, Alternative Fiction. Why? Because Multi-Genre Author sounds like you've got marbles between your cheeks.
Horror, Sci-Fi, Dystopian, Supernatural, Dark Fiction, Thrillers and Mysteries, a little bit of sumpin sumpin for readers who enjoy intellectual and yet over the top lets blow our minds and rock out to amazing and extraordinary stories, heroes and villains. PD can best be described as a kind hearted, compassionate, hypnotizing, mesmerizing, do good save your life simpleton who would rather hang out all day with the characters in his books than venture too far away from home. A lover of isolation, meditating on the beach at sunrise, and howling at the moon after sunset, he's either the life of the party or the oddball sitting alone in the corner with that really strange look in his eye as if he's talking with people that are just not there, perhaps receiving a few concerned stares as he laughs at himself or maybe a funny joke one of those voices just told him. OH, All IS WELL ISN'T IT?
PD loves the creative process that comes with writing. From the spawning of a new idea to jotting down notes or sending a hurried email to himself even during the most off time to do so (the book always come first), to the artful craft of editing all the way to publication, there is nothing better than producing an exceptional book.
An avid reader who loves to talk books, PD will write short reaction reviews for the books he has finished and has not one issue answering questions from readers as they come.
So don't miss a thing that PD has going on, check in often, like follow and share on Facebook, Twitter and Goodreads and lets all have the time of our lives discussing what we all love best, BOOKS BOOKS BOOKS.