Golem Character Introduction: Annette Flemming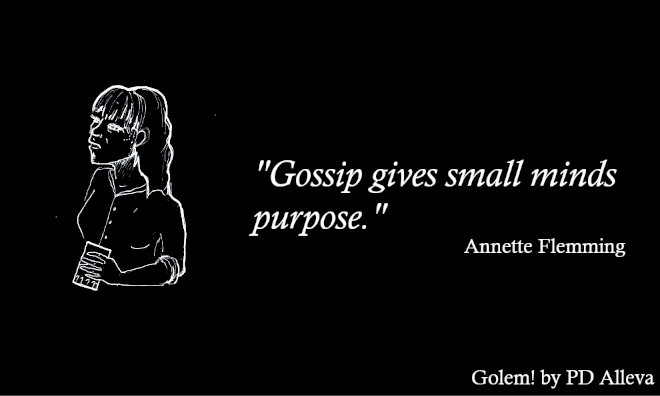 Introducing Annette Flemming
Neighbor. Wife. Karen.
Annette Flemming leads a lonely life confined to her home while her husband, Noel, is away on business. They've done well for themselves, the Flemmings have, rising in the ranks of the social elite from a small apartment in Queens to a new home on Long Island, Annette's doing her best to adjust to suburban life, but those damn nosy neighbors won't relent with their petty judgments and insipid jealousy.
Sure, the Flemmings were able to hire a helping hand, a bit more than a step above in this suburban neighborhood, and Annette is that neighbor that keeps the lights off on Halloween, well, on most years that is, but to hell with the neighborhood. Now that Annette has found a confidant in Alena Francon things have changed for the better, or at least that's how they seem.
But now that Alena's been committed under duress to Bellevue's psychiatric facility, Annette spends those lonely days and nights with a bottle of scotch and her trusted golden retriever, Sam, indulging in the many terror filled literature of Poe and Lovecraft.
Was that a knock on her door? On Halloween too no doubt. But at this late hour? Who could it be, rapping on Annette's door?
Author Note: For the last of the Golem character introductions I had to include Annette Flemming. Yes she is a Karen, the type of person who leaves the lights off during Halloween, and always has something nasty to say, with no filter what so ever. Annette's transformation in the story is wrought with anguish, loneliness, and it all began with a knock on her door. My goal was for the reader to despise Annette, allowing her to get under the readers skin and irritate it like rash that just won't go away. Perhaps a kinder human would sympathize with Annette's situation, but then again, maybe they won't, she is a first rate bitch.
Golem is currently available for Preorder on Amazon and Kindle Unlimited by following this link.
Hardcovers and Paperbacks will be available on release day October 5, 2021.
If you enjoy free books and book clubs, we are currently reading Golem as our September read in the PD Alleva Reader Group and Book Club. Would love to see you there. Click here to join the discussion.
~ PD Alleva