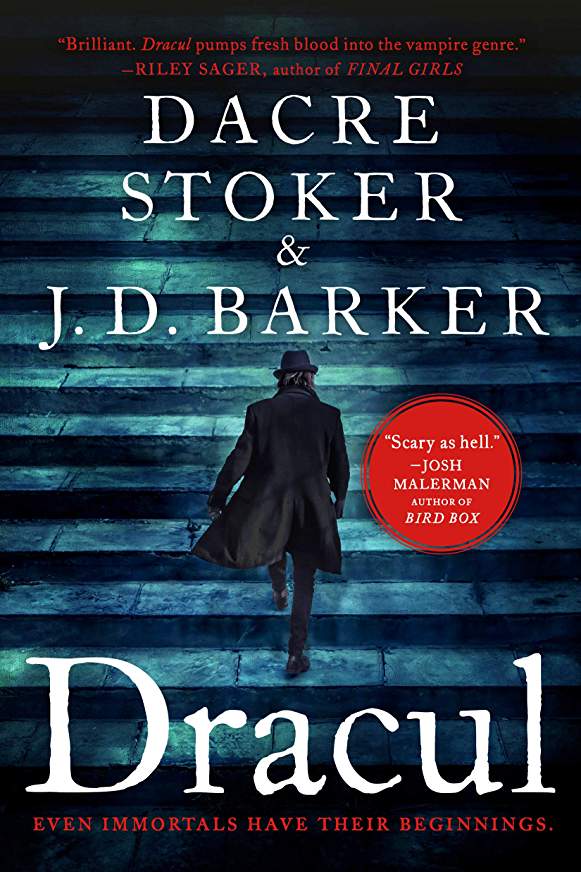 Dracul
by Dacre Stoker and JD Barker

I have to begin this review by acknowledging my fanatic nature towards vampires and Bram Stoker's Dracula in particular.
I first read Dracula as a teenager and was immediately hooked. Of course there were movies before reading the book, leading into the vampire lore and mysticism that would ultimately tickle my bloodthirsty fancy with ultimate satisfaction once the book was read. Kudos and honors to you, Bram Stoker, thank you for the contribution.
I first learned about Dracul (the prequel to Dracula) on Goodreads, the novel was number three on their best horror fiction of 2018 list. I must admit I was a bit skeptical at first. A prequel to Dracula? I thought. What if they ruin the original classic? After much debating (yes with myself and a few different personalities), I decided to give Dracula read. There was something about Dacre Stoker (an actual descendent of Bram Stoker) that peaked my curiosity. I began reading with high expectations.
Synospis(courtesy of Amazon):
The prequel to Dracula, inspired by notes and texts left behind by the author of the classic novel, Dracul is a supernatural thriller that reveals not only Dracula's true origins but Bram Stoker's—and the tale of the enigmatic woman who connects them.

It is 1868, and a twenty-one-year-old Bram Stoker waits in a desolate tower to face an indescribable evil. Armed only with crucifixes, holy water, and a rifle, he prays to survive a single night, the longest of his life. Desperate to record what he has witnessed, Bram scribbles down the events that led him here...

A sickly child, Bram spent his early days bedridden in his parents' Dublin home, tended to by his caretaker, a young woman named Ellen Crone. When a string of strange deaths occur in a nearby town, Bram and his sister Matilda detect a pattern of bizarre behavior by Ellen—a mystery that deepens chillingly until Ellen vanishes suddenly from their lives. Years later, Matilda returns from studying in Paris to tell Bram the news that she has seen Ellen—and that the nightmare they've thought long ended is only beginning.
What they uncover leads to them to the discovery of Dracul. That's right, Dracul, the 'a' has been officially loped off. Why? Read the book no spoilers here remember.
What was most intriguing for me was the basis of the story, which was inspired by notes and texts associated with the classic Bram Stoker novel. I was just as intrigued by the Authors Notes as I was the story, including the manner in which Bram Stoker published his classic novel. Very interesting reading. Very interesting, indeed!
My rating on Draculis Five out of Five stars. My expectations were not only met they were exceeded. Dacre Stoker and JD Barker (who, thanks to this novel I've recently discovered. Reading Forsakenas this is written and loving it), have weaved together a classic vampire novel that raises more questions than it set out to answer. Fact is stranger than fiction, but then again, fiction is the best way to hide truth in plain sight.
~ PD Alleva
Sci-Fi/Horror/Dark Fiction Author