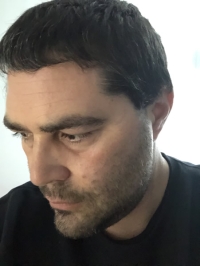 The Rose Vol 1 A Dystopian Science Fiction Thriller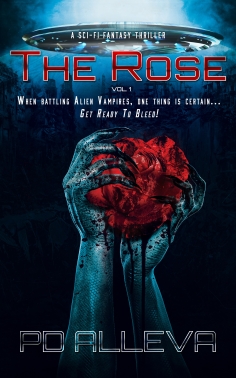 Published by Quill and Birch Publishing

Genetic Manipulation, Metaphysical Superpowers, Chemical Lobotomies, Rebellion, and Subjugation. Welcome to the future!
Aliens do exist. Vampires too. And in this dystopia, Alien Vampires exist.
In the aftermath of WW3, vampires from Hollow Earth have secretly forged an alliance with alien grays and the human elite to subjugate the human population in a quest for interstellar domination.

Phase One of their diabolical plan is to destroy their greatest threat: The human genome.

Now humanity is forced into reprogramming camps. Forced to endure genetic manipulation, torture, and vile psychological experiments.

But from the depths of time an age-old enemy challenges the vampire's dominion. This evolved human rebellion is trained in the ancient alien practices of mind and body. Armed with The Blades, a sacred alien martial arts weapon, and wielding the metaphysical superpower known across the universe as The Rose, the rebellion seeks to stab at the heart of the evil triad, and usher in a new age of evolution.
When battling Alien Vampires, one thing is certain…Get Ready To Bleed!
Fans of Dune, Annihilation, The X-Files, Star Wars, and Ancient Aliens will be fascinated by this pulse pounding, jaw dropping, scifi fantasy thrill ride.
Praise for The Rose:
"In less than a day I traveled through a post WW3 world manipulated by space vampires and grey witches conducting Nazi-like experiments on humans…and I loved it!" ~ Seth Comire (IHeartScifi)
"This ambitious novel plays unashamedly in the pulp-SF sandbox… Readers who can appreciate the conspiracy-minded plot will have a great deal of fun, as will fans of nonstop, high-stakes thrills." ~ Kirkus Reviews
"Hands down one of the best thrillers I've read in quite a while. It's downright brilliant!" ~ Laura D. Child (The Magic Book Corner)
"An action packed no holds barred adventure with cinematic flair. Great for fans of Jeff Vandermeer's Annhilation." ~ Booklife Reviews
"Forget what you know about vampires and prepare to get a new bite from the tastefully different rules in The Rose Vol. 1. Bringing a new twist to a well-known genre is usually a risk, but PD Alleva has found a brilliant way to make it work. The Rose Vol. 1 is a fantastic recommendation for fans of vampire, fast-paced action, heart-racing, and dark-themed novels." ~ Readers Favorite (Starred Review)

"Sandy - Phil - Cam - Ben - the Dracs - the greys - all of Alleva's characters are multi-faceted and unpredictable with infinite layers. If you like thrillers, sci-fi, or dystopian, you will meet your match in THE ROSE. Riveting." ~ Sherrie Hansen, Author of 'Night and Day'
"Sanos is perfectly horrible and you love to hate him. This book has invasions, abductions, blood, gore, telepathy and hope for mankind – with a twist and it's all that stuff that made this a really refreshing read. I can't wait for the next book!" ~ RM Garino, Author of 'The Gates of Golorath'

"Thought you knew everything there is to know about aliens, vampires, werewolves, hulks, people? Well think again because this book turns everything on its head in a sci-fi extravaganza of action and plot twists. Alleva serves up this story with style and an array of characters that you can't help but fall in love with. As the lines between the perceived 'good and evil' blur, the idea of the Rose is intriguing and I cannot wait to find out what happens in Vol. 2." ~L.L. Thomsen, Author of 'The Missing Shield'
316 pages | 978-1-7351686-0-9 | October 7, 2020