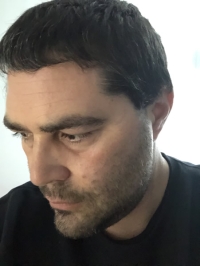 Golem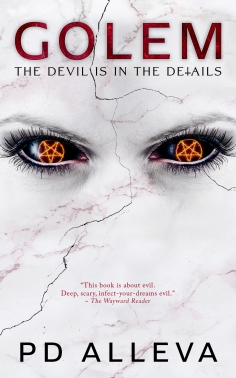 Published by Quill and Birch Publishing, LLC
"An extraordinary psychological horror book. Excellently written, with a twisted, spiraling, unexpected end that will leave you speechless." ~ TBM Horror Experts
Detective. Angel. Victim. Devil.
A haunting tale of suspense, loss, isolation, contempt, and fear.
On November 1, 1951, war hero John Ashton was promoted to detective. His first assignment: find the district attorney's missing daughter. But his only lead is Alena Francon, a high society sculptor and socialite committed to Bellevue's psychiatric facility.
Alena has a story for the new detective. A story so outlandish John Ashton refuses to heed the warning. Alena admits to incarnating Golem, a demonic force, into her statue. A devil so profound he's infiltrated every part of New York's infrastructure. Even worse, he uses children to serve as bodily hosts for his demonic army, unleashing a horde of devils into our world.
When Alena's confidant, Annette Flemming, confirms the existence of Golem, John is sent on a collision course where fate and destiny spiral into peril, and the future of the human race hangs in the balance.
The Devil Is In The Details!
Fans of The Silence of the Lambs, Clive Barker, John Connolly, old Stephen King, and Anne Rice will be fascinated by this edge of your seat psychological horror thriller with a story that rips out the heart of humanity and throws it on a slab to be feasted on.


Praise for 'Golem':
"The mastery with which the book is written had me comparing the author to giants in the horror genre, such as Edgar Allan Poe and Stephen King." ~ Baphy1428 Book Review
"Golem is a strong story, great conflict and wonderful storytelling. I'd compare it to some of Stephen Kings works - it makes you think, and once you start you can't put it down" ~ The Bashful Bibliophile
"Golem ticked all the boxes for me. The titular Golem is well done, his every word sure to manipulate and confuse the characters in the book" ~ Zombie Inkpot
"This book is about evil. Deep, scary, infect-your-dreams evil. While some people warn you not to read something after dark, I can assure you that day or night this will frighten you. Horror fans will find themselves thoroughly captivated by the book." ~ The Wayward Reader
"PD Alleva unfolds that kind of psychological horror that gets into your mind like a dark thought you can't control. It owns all the required factors to hook a horror fan, while excellently written; the terror of a sick mind, broken unspeakable memories, ancient evils stuck to families, horrible tortures, wandering souls, and the pure love of a beautiful, fragile soul whose suffering and demolition will be the fuel for the other characters' insanity. An excellent choice, if you can handle horror—indeed." ~ TBM Horror Experts
"Probably one of the best I have read in a long time." ~ International Best Selling Author A.L. Norton
"Golem is the kind of psychological horror that seeps into your mind and gets you thinking. When you first start reading, you think you know the answers, but prepare yourself for a ride!" ~ Reader Review
"Getting the perfect amount of fear, disgust, horror, is an art form. One that I think PD Alleva manages quite well in Golem. The setting of this book was great to read. I have rarely read a horror novel set in a historical time, and this one was as realistic as if I were living it myself." ~ Quill and Pen Society
"When the end of 2021 comes and I do my list of best horror book I have read this year, Golem will be very high on that list. I absolutely recommend it and am sure that you will all love it as much as I did!" ~ Horror Fuel
"This grabbed me from the opening scene and just entangled me more with the turn of each page. So many "HOLY CRISPER CRACKER" moments. Twists that I never saw coming. I grew up on King - craved that underlying possibility that was woven through each story of possible truth. This has that factor in spades." ~ Reader Review
532 pages | 978-1-7351686-4-7 | October 5, 2021