Kasper J. Beaumont Author Interview
Choose Your Hunters of Reloria Adventure
by Kasper J. Beaumont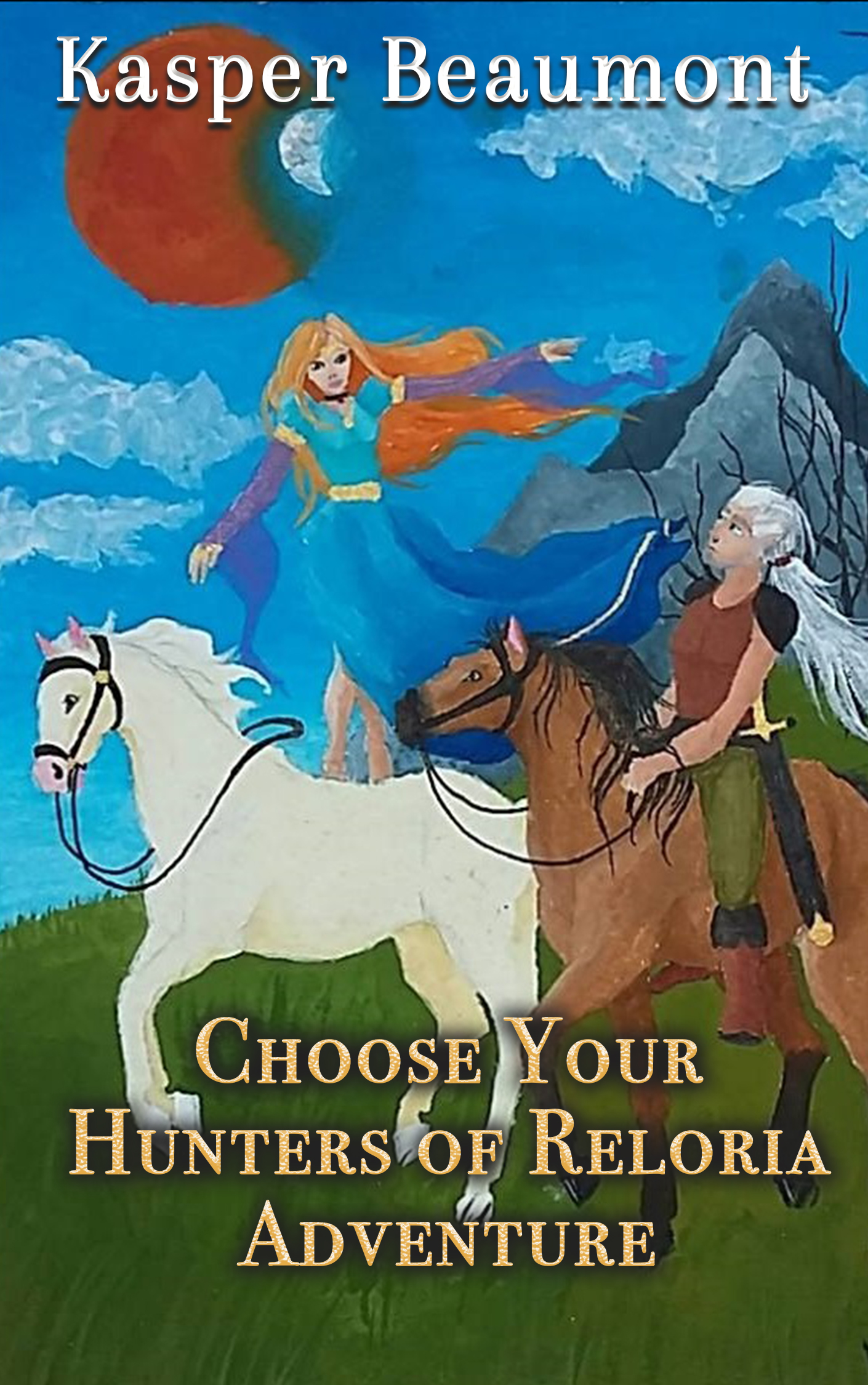 Synopsis: Can you be the hero?
Travel your choice of path, adventurer.
Chase the lizardmen who have stolen the Elven Jewel.
Journey through caves, forests, swamps and more.
Encounter magic creatures and battle fierce enemies.
Select your character
Select your weapons
Select your path
Kasper wrote this book because Choose Your Path-type books were one of her favourite genres as a teenager. She wants to share the fun and magic with her readers. It is set in the world of her Hunters of Reloria series and contains some of the novels' most popular characters. Kasper welcomes readers of all ages to have some fun with this adventure book. It contains artwork sent in by artists of all ages.
Genre: Choose Your Story; Sword & Sorcery
Publish date: 25th August, 2019
Publisher: Kasper Beaumont
Extract:
Since the book is a multiple choice story, extracts are difficult to present, however, below are a few pics pertaining to the story. Enjoy!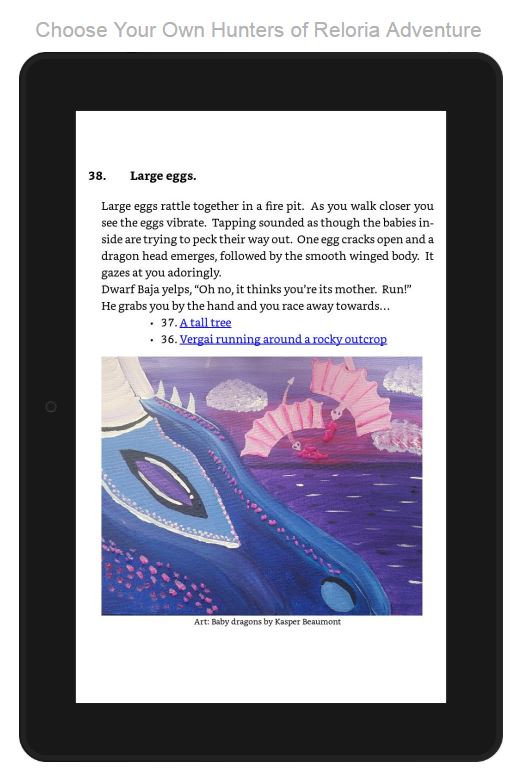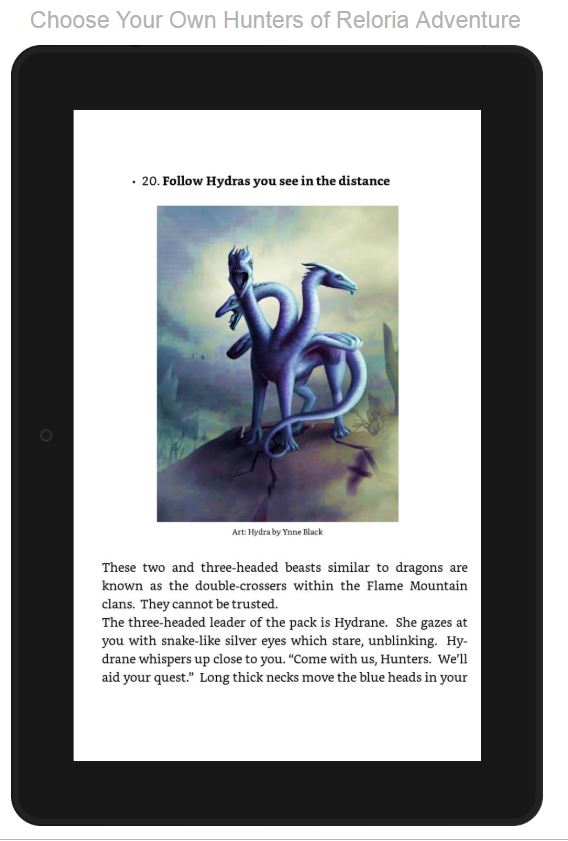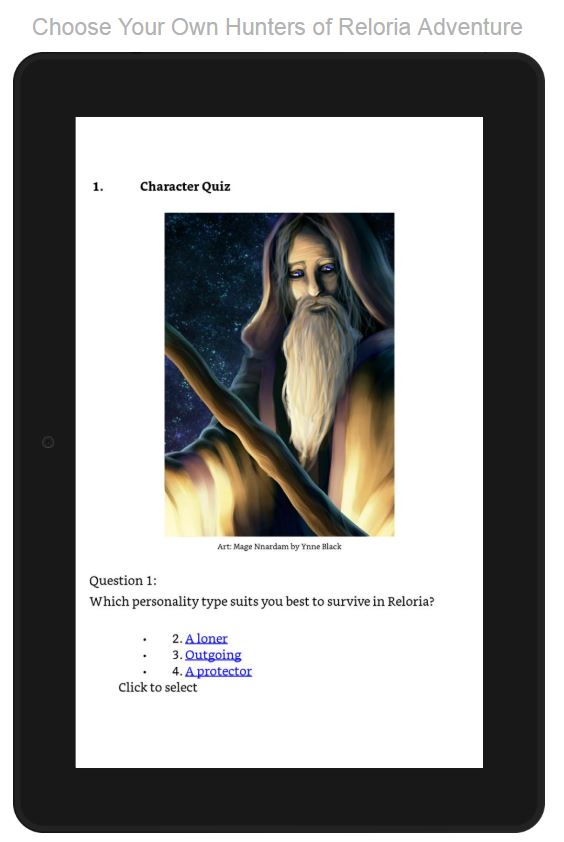 Author Interview Questions:
What makes your writing unique compared to others in the genre? Many of the reviews I've received say that there's something a special about my writing, like I'm a born storyteller. One concept I have that sticks out from the pack is that the halflings and fairies in the Hunters of Reloria series are bonded together in a symbiotic relationship. Halflings give the fairies life and energy, and fairies share their magic. They are intrinsically linked by the bond and can only go a short distance apart. Also, their lifespans are synchronised from birth to death.
What's the basic plot of your Hunters of Reloria series? I have 4 books and several short stories published in the series. It's set in a land protected by a magical forcefield. Lizardmen invade a halfling village through a magical portal, on a mission to capture the Elven Jewel which sustains the forcefield. Once the forcefield is broken, hordes more invaders are waiting to overrun Reloria.
A band of strangers embark on a quest to foil the lizardmen and rescue the Elven Jewel. The hunters are halflings, fairies, an elf, dwarven brothers, a mage and a dragon. Exciting surprises are revealed along the way and the hunters develop a close bond, despite their differences.
Which scene from your book do you like best and why? Being a dragon-mad fangirl, I like the scene where the reader sees dragons and has the choice to ride one or to stay the course with their companions and hunt lizardmen.
What music do you listen to when writing? Spotify sends me great new play lists all the time, including some old faves like Linkin Park, Metallica and Aerosmith and new similar artists they think I'll like. It's a great free service.
What are you working on now? I'm on my second book in a new series about angels and demons. It's for an older audience than the Hunters of Reloria and hope it will develop a wide fanbase. The first book is with the editor at the moment, so fingers' crossed we'll have some news to share in a while.
How did you go about developing your cover artwork? This Choose Your Story one is a special cover to me. All the other books I've published were commissioned works by professional artists. This one was a painting sent in for an art competition I ran. I like the bold use of colours and the playful action it portrays. The artist is a young lady named Hecatė Jerrett.
What is your favourite quote? "Carpe diem, seize the day boys. Make your lives extraordinary." Robin Williams in The Dead Poets Society. Some things in life are given to us, other dreams are for us to pursue if we dare, like being an author, travelling, making a difference in this crazy world.
Who would you choose to read your audiobook? Tough one. I'll go with Ewan McGregor because I like his accent.
Where do you like to travel to? I love to travel but am limited by finances and the fact that Australia really is a long ways from any other country. Places I've been include: backpacking around Europe; taking the family with my young children to Abu Dhabi, France and driving all the way up to Scotand (we sure loved those hairy coos); Middle Earth (AKA New Zealand); Fiji and Vanuatu. Still a few continents for me to explore, including more of Australia.
What's your favourite pet? I'd better not choose, because Cavalier Penny and Chihuahua Charlie are both fiercely protective of my affections. Also, we have a crazy chicken named lucky that roams the streets and pecks a lot.
What's your experience of the Fantasy Sci-Fi Readers' Lounge? I love it and have made so many new friends and readers there. It's a cool place to hang out and I love joining in the discussions and playing the games. Jigsaw cover reveals are so much fun there.
Quick quiz:
Favourite thing to cook: French martinis (that's a food, right? LOL)
Silliest saying: cool bananas
Best holiday spot: New Zealand
Most played song: Sweet Child O' Mine
With writing, are you a plotter or (seat-of-your) pantser? pantser, I never know where we will end up, which is part of the fun.
Do you prefer to read SciFi or fantasy: both, lean towards paranormal fantasy
Best superpower: flight (Is becoming a dragon classified as a superpower?)
Number one thing to do on your bucket list: hot air ballooning

Author Bio: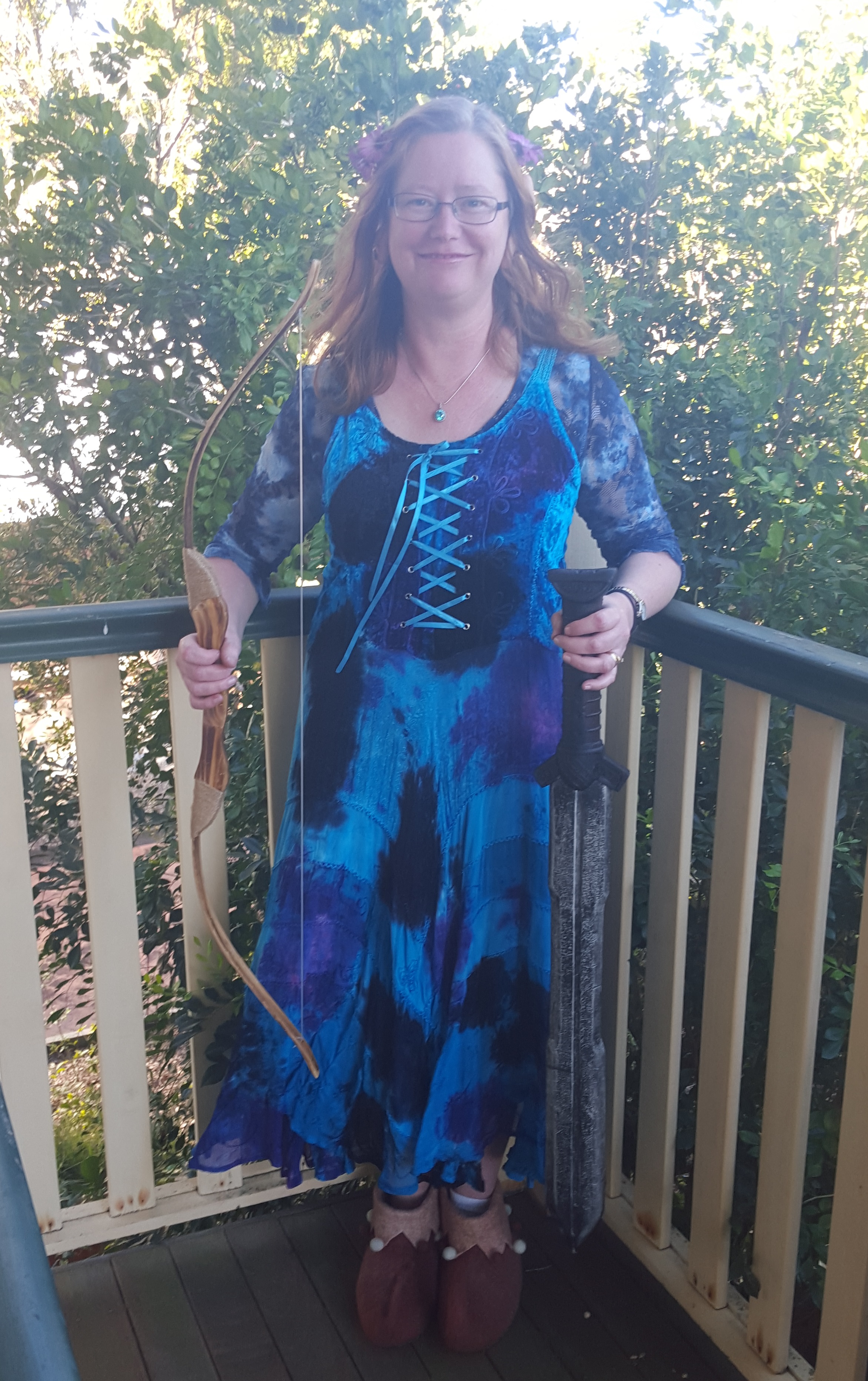 Kasper J. Beaumont was born and raised in Australia and lives a quiet life with the family in a seaside town. Combining a love of fantasy and a penchant for travel in the Hunters of Reloria trilogy, Kasper started to write on the urging of friends and family and enjoys watching readers become immersed in the magical world of Reloria. Kasper is a pen name for a rather shy author who is happy to remain unnamed.

Links:
Website: www.huntersofreloria.weebly.com
Blog: www.huntersofreloria.weebly.com/kaspers-ramblings
Facebook: https://www.facebook.com/kasperj.beaumont
Twitter: https://twitter.com/KasperBeaumont
Amazon: https://www.amazon.com/Kasper-Beaumont/e/B00DQ2JB22
Thanks for having me here, it's been fun to chat with you.