Halloween Book Club Event: Author Competition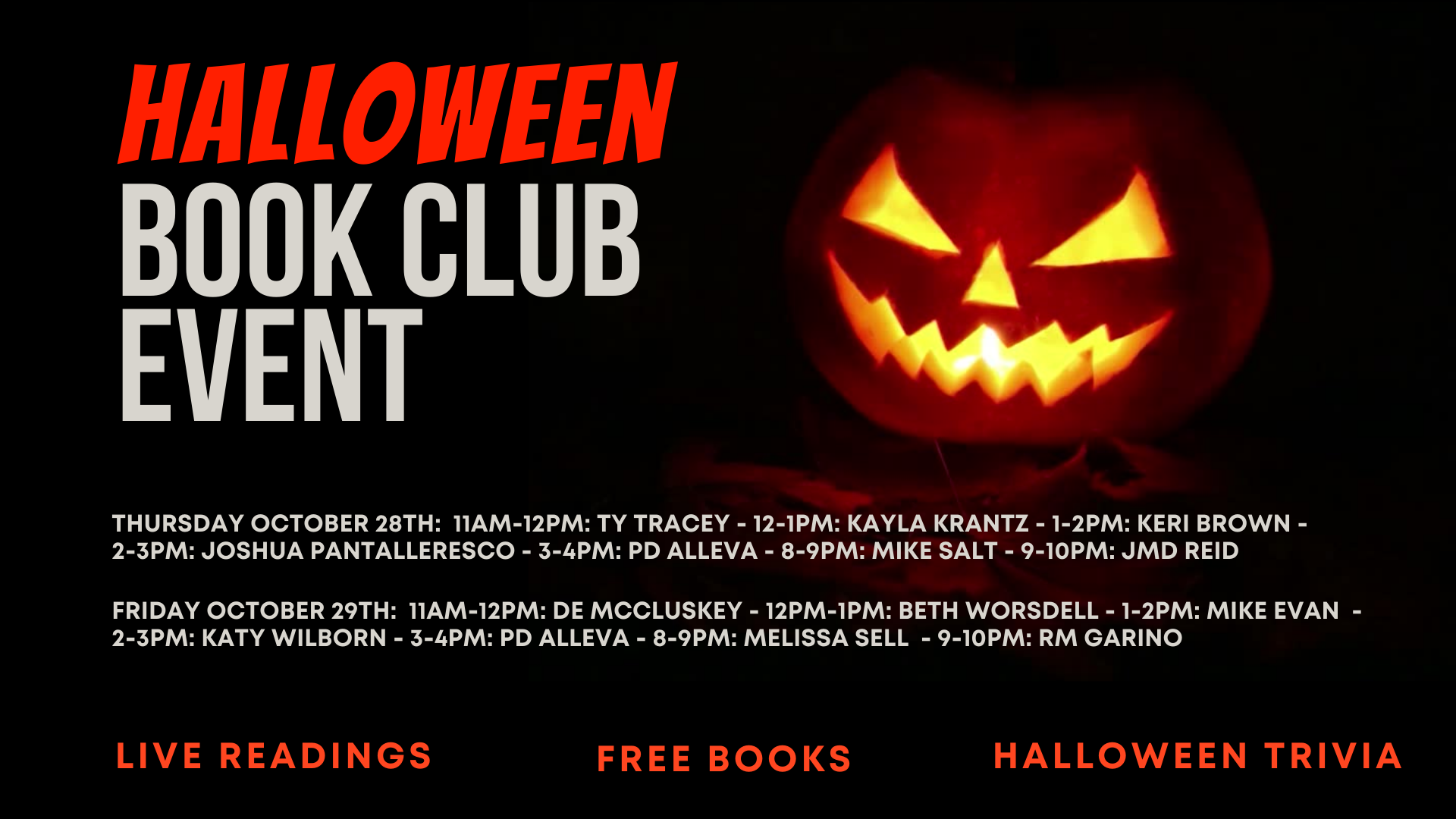 PD Alleva's Reader Group and Book Club Presents the Halloween Book Club Event and Author Competition
For readers who enjoy all things dark and scary, creepy and weird, magical and surreal. PD Alleva's Book Club Halloween Event is a one of kind experience for readers who love horror, fantasy, and science fiction genres.

Listen to live readings from today's leading Indie Authors as they battle over which book will be the chosen as the January Book Club Discussion.
Event Schedule
All times listed are EST

Thursday October 28th

11am-12pm: Ty Tracey
12-1pm: Kayla Krantz
1-2pm: Keri Brown
2-3pm: Joshua Pantalleresco
3-4pm: PD Alleva

8-9pm: Mike Salt
9-10pm: JMD Reid

Friday October 29th:

11am-12pm: D.E. McClusky
12pm-1pm: Beth Worsdell
1-2pm: Mike Evan
2-3pm: Katy Wilborn
3-4pm: PD Alleva

8pm: Melissa Sell
9pm: RM Gorino

Book giveaways will be posted every hour after the authors live reading or Q&A is completed.
Vote for your favorite author and book. Voting will begin on Tuesday November 2nd.
Test your Halloween Knowledge with Trivia Contests Posted throughout the day.

Host and author PD Alleva will be reading from his scifi fantasy thriller series, The Rose Vol 1 & 2. Cover reveal for Vol 2 during Fridays Live Reading. Alien Vampires attempting to subjugate the human population after WW3 will be on hand during the reading.

Book Club Discussion for The Rose Vol 1 & 2 will begin the following week and continue until December 21st. Book Club Sign Ups and Free Digital Copies of The Rose Vol 1 and 2 provided during the event.

This event is exclusive to members of PD Alleva's Alternative Fiction Reader Group and Book Club. Not a member? Join Here: https://www.facebook.com/groups/pdsthrillerreadsandbookclub

Join us for what will be a fantastic Halloween Event.

Free Books. Halloween Trivia. Live Readings and Q&A's. Halloween can't get much better than this.